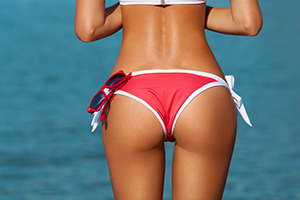 Although it seems like a newer cosmetic surgery procedure, board-certified plastic surgeon Wally Zollman, M.D. has been performing buttock augmentation procedures at his practice for over 20 years. If you are considering buttock augmentation through fat transfer, you can put your trust in Dr. Zollman's experience.
Buttock Augmentation through Fat Transfer
Whether you are interested in a slightly more projecting buttock in your jeans or if you want to significantly add to your posterior curves, Dr. Wally Zollman can give you the look you desire if you have an adequate amount of fat.
Buttock augmentation through fat transfer, also referred to as gluteal fat augmentation or BBL, is a reshaping of the buttocks using excess fat from donor sites elsewhere on the patient's body. Many buttock augmentation patients at our Indiana practice choose to combine gluteal fat augmentation with liposuction to not only better contour their bodies, but also ensure that there is surplus fat to be used in the buttock augmentation.
The fat transfer buttock augmentation procedure produces natural-feeling results. After the initial swelling and discomfort of the buttock augmentation procedure, patients can return to their everyday activities and enjoy the new, streamlined curves of their bodies.

I am so glad I found Dr.Zollman! I had a tummy tuck and Brazilian butt lift. DR.ZOLLMAN did a very good job. His staff was nice and helpful too! I will not go to anyone one else but Dr.Zollman. Thank you so much for making look and feel better about myself.

Diana Parsons

August 17, 2015

12345
Buttock Augmentation Before and After Photos
Learn More About Fat Transfer
If you are interested in fat transfer buttock augmentation, contact our plastic surgeon today. By scheduling a buttock augmentation consultation with Dr. Zollman, you can discover whether fat transfer is the best option for you. A member of the Zollman Plastic Surgery staff can also discuss options for financing your cosmetic surgery costs.