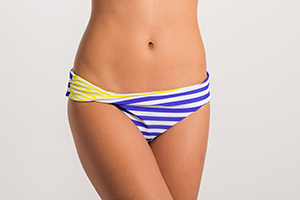 Advertisements for exercise equipment and workout videos state that if you do enough crunches or follow the right exercise regimen, you can have a flat stomach and tight abdomen. Unfortunately, this is not true for many people who find that no amount or type of exercise and diet can eliminate the excess fat and skin around their midsection. If you are suffering from the same problem, Indianapolis plastic surgeon Wally Zollman, M.D. may be able to help you with a tummy tuck, or abdominoplasty, at his plastic surgery practice.
Your Tummy Tuck Options
During your consultation with Dr. Zollman, he will explain how performing an abdominoplasty by itself may be the most beneficial for you, or how you may see better results if you combine your tummy tuck with a liposuction procedure. You may also wish to combine your tummy tuck with breast augmentation, breast lift, or breast reduction, and possibly a buttock augmentation using the removed fat. Dr. Zollman will also thoroughly explain the surgical procedure for an abdominoplasty (tummy tuck) offered through our Indianapolis, Indiana cosmetic surgery practice and give you a chance to ask any questions you may have about the procedure.
Abdominoplasty Surgical Procedure
Abdominoplasty surgery typically takes about two to three hours to perform. During a basic tummy tuck, Dr Zollman will make a low abdominal incision which can easily be hidden with clothing including swimwear and will diminish over time. Not only will it remove excessive skin, it will tighten the abdominal muscles as well.
Abdominoplasty Before and After Photos
Contact Zollman Plastic Surgery
Having a flatter, more toned abdominal region can make you feel much more confident and secure about your body. Abdominoplasty at our cosmetic surgery practice can get you there. Take the first step toward a more desirable abdomen through a tummy tuck; contact Wally Zollman, M.D. today.