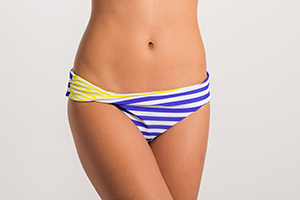 Advertisements for exercise equipment and workout videos state that if you do enough crunches or follow the right exercise regimen, you can have a flat stomach and tight abdomen. Unfortunately, this is not true for many people who find that no amount or type of exercise and diet can eliminate the excess fat and skin around their midsection. If you are suffering from the same problem, Indianapolis plastic surgeon Wally Zollman, M.D. may be able to help you with tummy tuck surgery.
What Is a Tummy Tuck?
A tummy tuck is the more common name for abdominoplasty, which is a surgical procedure designed to reduce excess skin in the abdominal area and improve body contours in this region. Tummy tuck surgery removes inelastic skin and tightens underlying abdominal muscles. The procedure is customized for each patient to provide a firmer, flatter abdomen, achieving results that cannot be attained with even the strictest diet and exercise regimens. Tummy tuck surgery can be an ideal option for both women and men. It is one of the most popular body contouring procedures available, and can be particularly beneficial for women who are looking to restore the appearance of the midsection after pregnancy.
Abdominoplasty Before-And-After Photos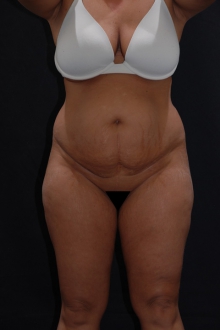 Before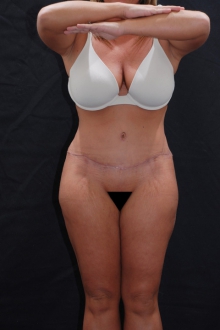 After
Tummy Tuck vs. Liposuction
Tummy tuck surgery is one of the most popular options designed to provide enhanced contours in the abdominal area, and liposuction is another. With that in mind, there are some very important distinctions between these procedures and the concerns they are designed to address. Tummy tuck surgery is primarily focused on removing excess fat, repairing and tightening stretched abdominal muscles, and firming up the remaining skin for a flatter appearance. Liposuction is geared more toward reducing excess fat—it will have no significant recontouring effects on excess skin and cannot address lax abdominal musculature. In many cases, tummy tuck surgery and liposuction can be combined for patients who are experiencing both excess skin and excess fat in the abdominal region. Some individuals may only need one or the other to successfully achieve their goals. During your consultation, Dr. Zollman will evaluate your needs and talk with you about whether tummy tuck surgery, liposuction, or both of these advanced options will be ideal for your customized treatment plan.
What Are My Tummy Tuck Options?
During your consultation with Dr. Zollman, he will explain how performing an abdominoplasty by itself may be the most beneficial for you, or how you may see better results if you combine your tummy tuck with a liposuction procedure. You may also wish to combine your tummy tuck with breast augmentation, breast lift, or breast reduction, and possibly a buttock augmentation using the removed fat. Dr. Zollman will also thoroughly explain the surgical procedure for an abdominoplasty (tummy tuck) offered through our Indianapolis, Indiana cosmetic surgery practice and give you a chance to ask any questions you may have about the procedure.
What Does the Abdominoplasty Surgical Procedure Involve?
Abdominoplasty surgery typically takes about two to three hours to perform. During a basic tummy tuck, Dr. Zollman will make a low abdominal incision, which typically produces a scar that can easily be hidden with clothing (including swimwear) and should diminish in appearance over time. A full tummy tuck surgery involves the removal of excess skin, in addition to the tightening of abdominal muscles. The remaining abdominal skin will be redraped and pulled taut. In most cases, the navel will also be moved to a new position. By addressing both lax musculature and excess skin affecting the abdomen, tummy tuck surgery can produce a firmer, smoother, flatter, and more fit appearance.
What Is Recovery After Tummy Tuck Surgery Like?
A tummy tuck is an invasive surgical procedure and will require a period of downtime for recovery. While each individual patient has unique needs and the recovery process is somewhat different for everyone, most people who undergo this procedure are able to return to normal routines after approximately two or three weeks. Swelling and bruising in the abdominal area can be expected following tummy tuck surgery; however, these effects should fade as the region heals. Discomfort during recovery can be managed with medication. A compression garment may also be necessary for a few days after surgery to help control swelling.
How Noticeable are the Scars from Tummy Tuck Surgery?
For patients who undergo full tummy tuck surgery, an incision is typically created from one hip to the other, under the "bikini line" and above the pubic area. There will be a noticeable scar resulting from this incision; however, it can typically be easily concealed under clothing and swimwear. It is also important to note that the scars should fade to some degree over time. Dr. Zollman is extensively experienced with abdominoplasty procedures and utilizes precise techniques designed to minimize residual scarring as much as possible. Our team will also provide you with detailed post-operative instructions that can help you care for the incisions.
Is a Non-Surgical Tummy Tuck Possible?
While certain diet regimens, exercises, and devices (such as the Tummy Tuck Belt®) may claim to offer a non-surgical alternative to tummy tuck surgery that can provide similar results, there is simply no option other than abdominoplasty that can significantly address the same conditions or deliver matching outcomes. If loose, inelastic skin in the abdomen and abdominal muscles that have been stretched or torn are contributing to aesthetically undesirable contours, a tummy tuck is likely the only way to successfully treat those concerns and provide firmer skin and a recontoured look. However, if the aesthetic issues are due to a mild-to-moderate buildup of excess fat in the abdominal region rather than excess skin and muscle laxity, a non-surgical procedure such as CoolSculpting® may be an option. Dr. Zollman will have a better idea as to what is causing the concerns once he has evaluated your needs during the initial consultation. Once that is determined, he can discuss the best available treatment options.
How Much Does Tummy Tuck Surgery Cost?
A full tummy tuck procedure at our practice typically falls in the $7,500 to $8,500 cost range. Bear in mind that this is a general estimate; since this treatment is customized to each patient's unique needs and goals, the total cost of tummy tuck surgery is not necessarily the same for every individual. Some of the components of abdominoplasty that will determine the price of treatment include:
The specific technique utilized
The complexity of the treatment
Fees for the surgeon, anesthesia, and use of the surgical facility
Any additional procedures that have been chosen as part of the customized treatment plan
Costs of medication and any post-operative garments that may be required
Our practice firmly believes in providing an up-front cost estimate that includes all expenses associated with tummy tuck surgery. Once your customized treatment program is developed, a member of our team will calculate a total price estimate and go over it with you in detail. We can answer any questions you may have about the variety of payment methods we accept, and we can provide you with information about plastic surgery financing opportunities. Our practice works with reputable companies such as CareCredit® and Link Federal Credit Union, which offer a range of flexible payment plans for qualified applicants who would like to pay for their tummy tuck surgery on a monthly basis.
Additional Tummy Tuck Frequently Asked Questions
Is a tummy tuck safe?
In general, tummy tuck surgery is considered to be a safe procedure when performed by an experienced plastic surgeon and when meticulous planning and proper aftercare are prioritized. Your surgeon, preferably a board-certified plastic surgeon who has successfully performed abdominoplasty many times, should conduct a thorough examination of your concerns and your overall health (and health history) to ensure you are a good candidate for this treatment. This will also help determine any risks for which you may be more vulnerable during and after surgery. Similar to most surgeries, there is the chance of excessive bruising, bleeding, swelling, discomfort, and infection; however, Dr. Zollman has performed plastic surgery procedures for decades and takes every precaution to reduce the risk of potential complications. Each patient will receive customized treatment and detailed instructions for post-surgery care and follow-up appointments.
How painful is tummy tuck surgery?
There may be some degree of discomfort immediately after tummy tuck surgery but, generally, the pain is often considered to be mild to moderate. Most patients tolerate post-surgery pain well with over-the-counter medications to help with discomfort and swelling. If needed, a prescription medication may be available as directed by your surgeon or doctor. With proper rest and healing of the incisions, residual pain or discomfort should fade within a few days following surgery.
What is a seroma after tummy tuck surgery?
A seroma is a build-up of fluid that forms under the skin, resembling a cyst-like lump, typically after tissue is removed or contacted. In relation to a tummy tuck, or surgery in general, the seroma usually forms near an incision site. A seroma may develop right after surgery, while others may not appear for several weeks. Smaller seromas with no other symptoms typically disappear on their own as they are reabsorbed by the body naturally. However, if a seroma becomes enlarged and is accompanied by an irregular heartbeat, fever, chills, pain, the release of a dark, bloody discharge, or other symptoms, that could mean it is infected. Patients should see their doctor immediately to have this type of abscess evaluated and treated properly, and should notify the plastic surgery team even if a small seroma or other irregularity is present.
How can I reduce swelling after tummy tuck surgery?
Swelling is a normal part of the body's healing process and can be expected during the initial four to six weeks following surgery. To help mitigate swelling, surgeons usually recommend wearing appropriate or prescribed compression garments, eating a healthy low-sodium diet, getting plenty of rest, staying hydrated, and easing into light walking upon medical clearance. Over-the-counter medications, such as ibuprofen, may be helpful when taken as directed by your doctor. Swelling should eventually subside completely, but these suggestions can also help in the overall recovery process.
How can I prolong the results of tummy tuck surgery?
Following a healthy, nutritious diet and exercise routine can be the most attainable way to preserve your newly contoured abdomen. It is also advised to avoid excessive weight fluctuations as much as possible since continuous weight gain and loss over time can cause the skin to stretch and become saggy again. Following your surgeon's post-procedure instructions and asking questions at follow-up appointments should help guide you for additional ways to optimize your results.
Having a flatter, more toned abdominal region can make you feel much more confident and secure about your body. Abdominoplasty at our cosmetic surgery practice can get you there. Take the first step toward a more desirable abdomen through a tummy tuck and contact Wally Zollman, M.D. today.