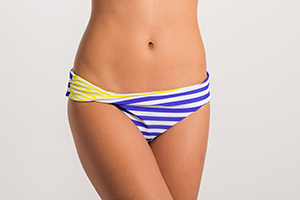 Advertisements for exercise equipment and workout videos state that if you do enough crunches or follow the right exercise regimen, you can have a flat stomach and tight abdomen. Unfortunately, this is not true for many people who find that no amount or type of exercise and diet can eliminate the excess fat and skin around their midsection. If you are suffering from the same problem, Indianapolis plastic surgeon Wally Zollman, M.D. may be able to help you with tummy tuck surgery.
What Is a Tummy Tuck?
A tummy tuck is the more common name for abdominoplasty, which is a surgical procedure designed to reduce excess skin in the abdominal area and improve body contours in this region. Tummy tuck surgery removes inelastic skin and tightens underlying abdominal muscles. The procedure is customized for each patient to provide a firmer, flatter abdomen, achieving results that cannot be attained with even the strictest diet and exercise regimens. Tummy tuck surgery can be an ideal option for both women and men. It is one of the most popular body contouring procedures available, and can be particularly beneficial for women who are looking to restore the appearance of the midsection after pregnancy.
Abdominoplasty Before-And-After Photos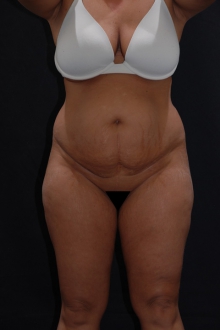 Before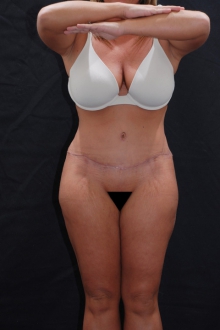 After
What Are My Tummy Tuck Options?
During your consultation with Dr. Zollman, he will explain how performing an abdominoplasty by itself may be the most beneficial for you, or how you may see better results if you combine your tummy tuck with a liposuction procedure. You may also wish to combine your tummy tuck with breast augmentation, breast lift, or breast reduction, and possibly a buttock augmentation using the removed fat. Dr. Zollman will also thoroughly explain the surgical procedure for an abdominoplasty (tummy tuck) offered through our Indianapolis, Indiana cosmetic surgery practice and give you a chance to ask any questions you may have about the procedure.
What Does the Abdominoplasty Surgical Procedure Involve?
Abdominoplasty surgery typically takes about two to three hours to perform. During a basic tummy tuck, Dr. Zollman will make a low abdominal incision, which typically produces a scar that can easily be hidden with clothing (including swimwear) and should diminish in appearance over time. A full tummy tuck surgery involves the removal of excess skin, in addition to the tightening of abdominal muscles. The remaining abdominal skin will be redraped and pulled taut. In most cases, the navel will also be moved to a new position. By addressing both lax musculature and excess skin affecting the abdomen, tummy tuck surgery can produce a firmer, smoother, flatter, and more fit appearance.
What Is Recovery After Tummy Tuck Surgery Like?
A tummy tuck is an invasive surgical procedure and will require a period of downtime for recovery. While each individual patient has unique needs and the recovery process is somewhat different for everyone, most people who undergo this procedure are able to return to normal routines after approximately two or three weeks. Swelling and bruising in the abdominal area can be expected following tummy tuck surgery; however, these effects should fade as the region heals. Discomfort during recovery can be managed with medication. A compression garment may also be necessary for a few days after surgery to help control swelling.
How Noticeable are the Scars from Tummy Tuck Surgery?
For patients who undergo full tummy tuck surgery, an incision is typically created from one hip to the other, under the "bikini line" and above the pubic area. There will be a noticeable scar resulting from this incision; however, it can typically be easily concealed under clothing and swimwear. It is also important to note that the scars should fade to some degree over time. Dr. Zollman is extensively experienced with abdominoplasty procedures and utilizes precise techniques designed to minimize residual scarring as much as possible. Our team will also provide you with detailed post-operative instructions that can help you care for the incisions.
How Much Does Tummy Tuck Surgery Cost?
A full tummy tuck procedure at our practice typically falls in the $7,500 to $8,500 cost range. Bear in mind that this is a general estimate; since this treatment is customized to each patient's unique needs and goals, the total cost of tummy tuck surgery is not necessarily the same for every individual. Some of the components of abdominoplasty that will determine the price of treatment include:
The specific technique utilized
The complexity of the treatment
Fees for the surgeon, anesthesia, and use of the surgical facility
Any additional procedures that have been chosen as part of the customized treatment plan
Costs of medication and any post-operative garments that may be required
Our practice firmly believes in providing an up-front cost estimate that includes all expenses associated with tummy tuck surgery. Once your customized treatment program is developed, a member of our team will calculate a total price estimate and go over it with you in detail. We can answer any questions you may have about the variety of payment methods we accept, and we can provide you with information about plastic surgery financing opportunities. Our practice works with reputable companies such as CareCredit® and Link Federal Credit Union, which offer a range of flexible payment plans for qualified applicants who would like to pay for their tummy tuck surgery on a monthly basis.
Having a flatter, more toned abdominal region can make you feel much more confident and secure about your body. Abdominoplasty at our cosmetic surgery practice can get you there. Take the first step toward a more desirable abdomen through a tummy tuck; contact Wally Zollman, M.D. today.