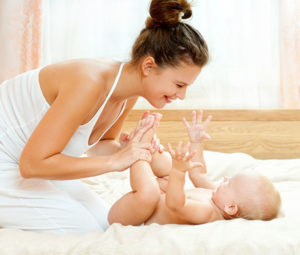 A Mommy Makeover can help rejuvenate your body contours, renew your skin, and beautifully enhance your appearance with stunning results. With all of the many gifts that come with pregnancy and raising children, the physical changes that go along with them can be challenging to reverse on one's own. Customized Mommy Makeover procedures from our board-certified plastic surgeon, Wally Zollman, MD, offer a comprehensive way to address many of these concerns and help you restore your pre-pregnancy figure.
What Is a Mommy Makeover?
A Mommy Makeover is a custom-designed procedure that can include a variety of surgical and non-surgical aesthetic enhancement options to help women revitalize their appearance after the physical effects of pregnancy, breastfeeding, and child-raising have taken a toll. Mommy Makeover procedures are composed of two or more treatments selected by the individual patient that can address their specific concerns. In many cases, Mommy Makeovers can be performed as a combination procedure in which all treatments are completed in a single surgical appointment. In others, the treatments may be performed over a series of staged procedures. Dr. Zollman will meet with you for an initial consultation to talk with you about your concerns and determine if a Mommy Makeover is right for your unique needs and goals. If so, he will explore the many options that can be included in your Mommy Makeover and create a personalized treatment plan.
What Are the Benefits of a Mommy Makeover?
Since Mommy Makeovers are designed to address numerous concerns in a variety of body areas, this treatment offers women many benefits. These benefits include:
Reduction of excess breast skin and restoration of breasts that may appear to be sagging or "drooping"
Volume enhancement for breasts that may have lost their fullness and shape
Removal of excess abdominal skin and tightening of abdominal muscles for a flatter, firmer look
Removal of excess fat deposits in virtually any region of the body
Improvement in signs of age, stress, and exhaustion for a more youthful and refreshed appearance
What Can Be Included In a Mommy Makeover?
Mommy Makeovers can include a comprehensive variety of surgical and non-surgical treatment options. Dr. Zollman will go over the possibilities with you during the initial consultation and answer your questions about all of the procedures that may be ideal for your needs. Some of the most common additions to a Mommy Makeover are:
Breast Lift
The development of breast ptosis (sagginess) in the breasts is very common among women who have had children and those who breastfeed. Breast lift surgery can reduce excess skin that may be pulling the breasts downward and tighten the remaining skin, effectively lifting the breasts higher on the chest and resulting in a firmer, more youthful aesthetic.
Breast Augmentation
For women who have experienced a loss of breast volume following pregnancy or breastfeeding, breast augmentation may be an ideal option to include in a Mommy Makeover. This treatment can enhance the size, shape, and symmetry of the breasts with the placement of advanced saline or silicone breast implants.
Breast Lift with Implants
In some cases, women have experienced a loss of breast volume in addition to the development of a sagging/drooping appearance in the breasts. Breast lift with implants surgery (augmentation-mastopexy) can address both of these concerns to create a fuller, firmer, more youthful breast appearance.
Tummy Tuck Surgery
Tummy tuck surgery is one of the most popular procedures to include in a Mommy Makeover. This option directly addresses muscles and tissues in the abdominal area that have been stretched and pulled apart during pregnancy. A tummy tuck removes excess skin, pulls abdominal muscles taut, and redrapes the remaining skin to create improved contours and a firmer, more fit look in the abdomen.
Liposuction
Isolated fat pockets that have proven impossible to eliminate via traditional diet and exercise can often be effectively addressed with liposuction. This treatment can reduce excess fat in areas such as the abdomen, thighs, arms, buttocks, back, love handles, and others.
Cosmetic Injectables
Non-surgical facial rejuvenation treatment with cosmetic injectables can minimize signs of stress, fatigue, and premature aging. Dr. Zollman offers advanced injectables such as BOTOX® Cosmetic, as well as dermal fillers and fat transfer treatments that can smooth away fine lines and add volume to facial features.
To be sure, these are just a few of the many options that can be part of a comprehensive Mommy Makeover. Once you decide that a Mommy Makeover is ideal for your goals and have made your selections during the initial meeting with Dr. Zollman, he can talk more with you about the customized treatment process and the next steps.
What Can I Expect During Mommy Makeover Recovery?
The precise nature of the recovery process following a Mommy Makeover is highly dependent on what has been included in the treatment plan and whether the procedure is performed over multiple appointments or in a single appointment. With this in mind, one patient's recovery experience is often very different from another patient's recovery. Individuals who undergo invasive treatments such as breast surgery and tummy tuck surgery may need a minimum of one to three weeks of rest at home, particularly if those procedures are performed in tandem. Options such as cosmetic injectables typically do not require extensive downtime; however, if non-surgical treatments are performed along with surgical procedures, there will be a recovery period required. More information on recovery from particular treatments that can be part of a Mommy Makeover can be found on their respective pages on our website, and we are always happy to answer any questions you may have. Dr. Zollman will provide you with detailed instructions for post-operative care that can help you achieve the smoothest recovery possible after your Mommy Makeover.
How Much Does a Mommy Makeover Cost?
The total cost of a Mommy Makeover will be based on a number of different factors, including:
The specific type and number of treatments that make up your customized Mommy Makeover
The techniques involved in the procedure
Surgical facility and anesthesia fees
Surgeon's fee
Any post-operative garments that may be necessary
The overall complexity of the procedure
Dr. Zollman and our team believe that each patient should have a thorough idea of what procedures may cost from the outset so they will know what to expect. Once your Mommy Makeover treatment plan has been put together during the initial consultation, a member of our team will combine all of the projected costs associated with your treatment into a total price estimate and go over it with you. We are happy to discuss the many convenient payment methods we accept here at Zollman Plastic Surgery, and we can answer your questions about plastic surgery financing, as well. Our practice works with reputable third-party lending agencies such as CareCredit® and Link Federal Credit Union that can help qualified applicants finance their procedure over time.
If you would like more information on Mommy Makeover procedures, or if you are ready to schedule a consultation with Dr. Zollman, please contact us today.