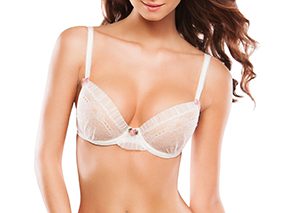 Entertainment magazines and television shows are filled with celebrities who have had any number of plastic surgery operations, including breast augmentation surgery using breast implants. But you do not have to be a celebrity to have the figure you desire. Plastic surgeon Wally Zollman, M.D. has over 25+ years' experience performing breast augmentation with breast implants for our patients.
Working with Breast Augmentation Patients
Unfortunately, some people try to demean women interested in this procedure by referring to breast augmentation as a "boob job." On the contrary, Dr. Zollman respects women and knows that every woman has the right to feel comfortable in her own body.
Not every woman has what she considers the ideal breast size. If you are not happy with the current proportions of your breasts, Zollman Plastic Surgery offers breast implant cosmetic surgery — a life-changing alternative for women who desire a fuller bustline. You can finally feel comfortable in your own body with breast augmentation plastic surgery. Dr. Zollman places the implants under all the muscles for a more natural and longer lasting appearance.
You may desire a breast augmentation procedure that increases your breasts by a cup size to allow you to better fit into designer clothing or bathing suits. Or, you may be interested in larger breast implants to give you the curvaceous figure you have always dreamed about. In either case, Dr. Zollman has the insight and experience to perform the breast augmentation procedure that will produce the results you desire.
When contemplating breast augmentation with implants, patients should schedule a consultation with Dr. Zollman. During this consultation, Dr. Zollman will ask questions to get a true idea of your wishes and to determine how he can construct your ideal breasts. Dr. Zollman will also discuss various options to consider for your breast augmentation surgery, as well as any side effects related to the breast implants.
Dr. Zollman's Procedure for Breast Implants
The hour-long breast augmentation surgical procedure that Dr. Zollman uses is performed under general anesthesia, with the incision for the breast implants made inconspicuously around the areola (the dark circle around the nipple). During the procedure, Dr. Zollman places saline or silicone breast implants under all of the chest muscles. The muscles then act as a "built-in elastic bra" to provide additional support after the breast augmentation surgery. Following the surgery, minor (and usually temporary) side effects, such as discomfort, inflammation, decreased nipple sensation, and sensitivity of the breasts, may occur. During your breast implants surgery consultation, Indiana plastic surgeon Wally Zollman, M.D. will discuss other possible complications from the procedure.
For some breast augmentation patients at his practice, Dr. Zollman performs a breast lift procedure during the breast enlargement surgery. Combining these two procedures not only improves the size of the breasts, but also lifts breasts that have begun to sag due to age, weight loss, or breastfeeding. Sometimes a breast lift can be avoided with Dr. Zollman's breast augmentation technique. Patients can usually recover over the weekend.
Dr Zollman is one awesome man! Before my breast augmentation, I had flat deflated boobs. My teenage daughter used to pass down the bras she outgrew to me and the bras were still too big for my boobs. I had my "miracle surgery" in March 2007. On that day, my confidence level and self-esteem FLEW through the roof!
Breast Augmentation Before and After Photos
Learn More about Breast Augmentation
To learn more about the breast augmentation/breast implants procedures at our cosmetic surgery practice, or to schedule a consultation, contact Wally Zollman, M.D., at Zollman Plastic Surgery today.