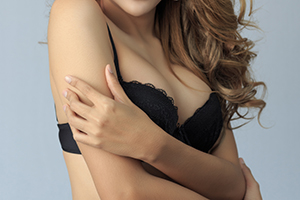 Bigger is not always better, especially when it comes to the breasts. Oversized breasts may cause pain in the neck, back, and shoulders, as well as other physical concerns. They may also cause mental and emotional anxiety, and have a negative effect on one's self-esteem. Fortunately, Dr. Wally Zollman, our board-certified plastic surgeon, offers advanced breast reduction surgery that can provide significant relief from the emotional distress and physical discomfort often caused by oversized breasts. This procedure can ultimately create a more proportionate breast size with results that look natural.
What is Breast Reduction?
Breast reduction is a surgical procedure that removes excess fat and/or tissue from the breasts. The treatment can produce a breast size that is more proportionate to a woman's body frame. Breast reduction can be ideal for individuals who are suffering from the physical discomforts and the self-consciousness associated with having breasts that are too large and cumbersome for their bodies.
Am I a Good Candidate for Breast Reduction?
Ideal candidates for breast reduction typically include individuals who would like to reduce the current size of their breasts and achieve more balanced proportions. Breast reduction surgery can address numerous concerns relating to overly large breasts. For many individuals, this treatment can:
Relieve back, neck, and shoulder pain caused by excessive weight in the breasts
Reduce skin rashes in areas under the breasts
Improve the ability to perform certain types of exercise
Reduce sagging and a "drooping" appearance
Reduce the likelihood of skin indentations caused by bra straps
Diminish self-consciousness or embarrassment caused by excessively large breasts
Improve the ability to fit comfortably into desired clothing
Enhance the appearance of the breasts for a more proportionate look
Improve posture
Candidates for breast reduction surgery should be in generally good overall health before undergoing this procedure. During the initial consultation, our plastic surgeon will help you decide if a breast reduction is the right cosmetic surgery for you. Dr. Zollman will explain the benefits and risks of breast reduction surgery, describe the surgical procedure itself, and answer any questions you may have. If you are interested in additional cosmetic enhancement options, Dr. Zollman can also talk with you about the possibility of combining the procedure with a breast lift, liposuction, tummy tuck, or other options.
What Does the Breast Reduction Procedure Involve?
The breast reduction procedure is usually completed in three hours and is typically performed under general anesthesia. It is generally an outpatient procedure, so an overnight hospital stay is not required in most cases. Dr. Zollman will begin the breast reduction surgery by making an incision below the natural curve of your breast and around the areola so that he may remove excess fat, skin, and tissue. He will then tighten the remaining skin around the reshaped breast and suture the incisions.
In some cases, patients may be able to effectively achieve their breast reduction goals with liposuction alone. Dr. Zollman will talk with you about your options during the initial consultation and determine the best technique for your needs.
What Can I Expect During Breast Reduction Recovery?
Your newly sculpted breasts may experience some initial swelling and discomfort after the breast reduction, but after the healing process, you should be able to enjoy the freedom of having smaller, more proportionate breasts. Each patient's recovery process varies depending on the breast reduction technique utilized and the extent of treatment. Some individuals are able to resume normal daily activities within two weeks, others may require a bit more time. In many cases, a surgical bra will be provided to control swelling and aid the healing process. Discomfort during recovery can be controlled with medication. It is important that you avoid strenuous activities and lifting heavy objects for several weeks following the procedure. Dr. Zollman will provide precise post-operative instructions that can help you attain the safest and smoothest recovery possible.
How Noticeable are Breast Reduction Scars?
The noticeability of residual scars after breast reduction surgery will depend on the specific technique that is used to perform the procedure. Patients who have the traditional breast reduction surgery, which involves the removal of excess tissue and skin, will typically experience scarring from the areolar regions down to the underside of the breasts. With this in mind, it is important to note that Dr. Zollman is extensively trained and experienced with breast reduction surgery and will make considered efforts to ensure that resulting scars are as minimally visible as possible. In addition, the scars should aesthetically diminish to some degree as time passes.
How Much Does Breast Reduction Cost?
The cost of breast reduction surgery at our practice frequently falls in the $7,500 to $8,000 range; however, the total price of this procedure is often distinct among patients since the treatment is customized to one's unique needs and goals. The techniques used to perform the procedure, the surgeon's fee, costs associated with anesthesia and the operating facility, the complexity and extent of treatment, and other factors will be taken into account for the overall price. In some cases, medical insurance may cover at least a portion of the breast reduction procedure if it is determined to be a medical necessity. Once your breast reduction treatment plan is developed during the initial consultation with Dr. Zollman, a member of our team will calculate a cost estimate that includes all of the expenses associated with the surgery. We will be happy to assist you with any insurance questions you may have, and to talk with you about the variety of convenient methods of payment we accept. These include plastic surgery financing options through agencies such as CareCredit® and Federal Credit Union. These companies offer qualified applicants a range of helpful financing arrangements so they can pay for their treatment in affordable monthly installments.
If you would like to learn more about breast reduction surgery, contact Dr. Wally Zollman today. The staff at Zollman Plastic Surgery is happy to provide you with additional breast reduction information, or to schedule a consultation between you and Dr. Zollman.