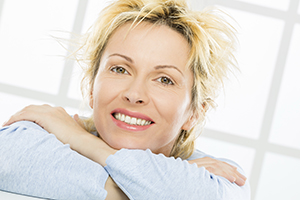 Perhaps you are interested in a cosmetic facial procedure, however, you feel a traditional facelift may be too intense for your needs due to relatively minimal signs of wrinkling and sagging. You might also be concerned with particular issues involved in facial surgeries such as long recovery times, high costs, and in some cases noticeable scarring, all of which may be factoring into your decision. It could be that you are just not comfortable undergoing major surgery at this time in your life. Thanks to advancements in plastic surgery, Dr. Wally Zollman offers patients a less invasive facial procedure called Minimal Access Cranial Suspension, or the "MACS Facelift." More commonly referred to as the "mini facelift," this highly successful operation is a relatively quick and minor facial enhancement alternative. 
What Is a MACS Facelift (Mini Facelift)? 
A MACS Facelift is a surgical procedure that can help patients reduce mild to moderate signs of age and sagging skin in the lower third of the face. The term "MACS Facelift" is often used interchangeably with "mini facelift" due to the fact that this technique is less invasive than a traditional facelift procedure and can result in less scarring. The mini facelift is also known to require less downtime following the procedure. 
A mini facelift offers a variety of benefits for both women and men, including the ability to: 
Reduce signs of inelastic, sagging skin in the lower face 
Reduce the appearance of jowls 
Lift cheek tissues 
Soften signs of wrinkles and fine lines around the mouth ("smile lines") 
The mini facelift procedure is customized to each patient's individual needs and goals in order to create natural-looking results and exceptional aesthetic outcomes. Dr. Zollman can talk with you about your expectations and determine whether a mini facelift is the best option for you.
Mini Facelift vs. Full Facelift 
There are several differences between a mini facelift and a more traditional, "full" facelift. The primary distinctions involve the techniques utilized and the severity of the concerns these treatments are designed to address. A full facelift can be a suitable option for patients experiencing moderate to severe signs of wrinkles, jowling, inelastic skin, and other aesthetic conditions in the lower third of the face. Full facelift surgery often includes a certain degree of neck lifting as well, which can help smooth and tighten the skin in the upper neck for a more youthful contour. By contrast, a mini facelift may be a more suitable option for patients who have less prominent signs of age and sagging skin along the lower area of the face. It is a less invasive procedure when compared to the technique necessary for a full facelift, and it typically requires less downtime. Mini facelift surgery also utilizes a different incision technique, which can lead to less scarring. Additionally, the mini facelift is often a more cost-effective option. 
It is important to note that both mini facelift and full facelift procedures can be extraordinarily effective options for long-lasting facial rejuvenation. Which of these treatments is right for your unique needs can be determined once you have met with Dr. Zollman and he has evaluated your aesthetic concerns. 
How Is the Mini Facelift Procedure Performed?
Unlike traditional facelifts, the mini facelift is designed for patients seeking moderate cosmetic facial rejuvenation. The procedure involves small incisions along the hairline, as well as liposuction through a tiny incision below the chin. As a shorter, less severe operation, the mini facelift can often be performed with general or local anesthetics, and if desired, patients are able to combine it with other facial rejuvenation procedures. As opposed to the long scars and horizontal pulling of a facelift, the mini facelift leaves minimal scarring that is virtually undetectable and utilizes vertical stretching, which can result in a more natural look for your face and no signs of plastic surgery.
 
Mini Facelift Before-and-After Photos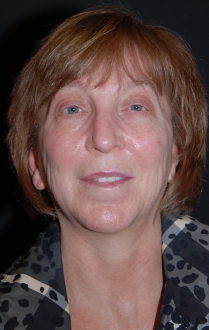 Before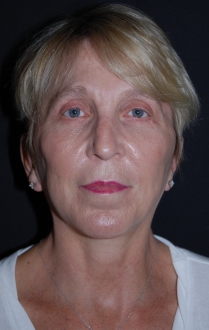 After
What Can I Expect During Mini Facelift Recovery? 
As a minimally-invasive treatment, the recovery time from a mini facelift is greatly reduced when compared to more invasive facial rejuvenation procedures. Patients can expect to experience minor swelling and bruising for about a week, but should be able to return to daily activities shortly thereafter. Keeping the head in an elevated position as much as possible during recovery can help speed the process along. Dr. Zollman will provide you with detailed post-operative guidelines and information that can help you obtain a smooth and effective recovery.
How Noticeable Are Mini Facelift Scars? 
One of the biggest advantages of mini facelift surgery is that the incisions can be placed in discreet areas, resulting in scars that are quite inconspicuous. Scars from a mini facelift are typically located in natural creases of the skin or areas that are not prominently noticeable, so they are even less detectable to others. 
How Long Do the Results of a Mini Facelift Last? 
The length of results from a mini facelift is often different among patients. In general, many patients may continue to experience the effects of this procedure for approximately 7 to 10 years. After this period, patients may consider an additional treatment to address signs of facial aging. With that in mind, it is important to remember that there is a kind of "resetting-the-clock" effect when it comes to mini facelift surgery. Basically, patients who undergo a mini facelift will typically always look younger than their present age than they would if they had never had the procedure. 
Are There Alternatives to a Mini Facelift? 
There are alternatives to mini facelift surgery for patients who may not be candidates for this procedure, or for those who would simply like to explore other options for facial rejuvenation. For more severe signs of facial aging in the lower third of the face and the upper area of the neck, a full facelift may be the more suitable treatment. For patients who are looking for non-surgical solutions, JUVÉDERM® dermal filler injections or laser skin resurfacing may be ideal alternatives; however, non-surgical remedies will typically not provide results that last as long as a surgical treatment. For patients who have aesthetic concerns that are primarily affecting the eyelid areas, eyelid surgery (an eyelid lift) rather than a facelift may be recommended. Once Dr. Zollman has examined your skin and talked with you about your goals, he can advise you on whether an alternative to mini facelift surgery can meet your expectations. 
How Much Does a Mini Facelift Cost? 
The cost of a mini facelift here at Zollman Plastic Surgery is variable among patients due to the customization of this procedure. When your treatment plan is developed during the initial consultation, factors such as the complexity of the procedure, fees for the surgeon and the use of anesthesia, whether additional treatments are included in the overall treatment plan, and other components will be taken into account. A member of our team can then calculate a more precise cost estimate based on the treatment plan and present it to you for review. We will be happy to talk with you about the variety of payment options we accept at our practice and answer your questions. These options include financing plans through reputable agencies such as CareCredit® and Link Federal Credit Union, which allow qualified applicants to pay for their mini facelift treatment in convenient installments. 
Contact Zollman Plastic Surgery in Indianapolis, Indiana
To learn more about the mini facelift procedure, please contact Dr. Zollman. The friendly and experienced staff at Zollman Plastic Surgery will assist you with scheduling appointments or consultations, as well as answer any questions regarding treatments and procedures our practice has to offer. We look forward to helping you meet your needs.