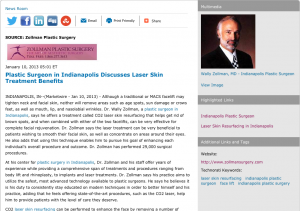 Indianapolis, IN – Although a traditional or MACS facelift may tighten neck and facial skin, neither will remove areas such as age spots, sun damage or crows feet, as well as mouth, lip, and nasolabial wrinkles. Dr. Wally Zollman, a plastic surgeon in Indianapolis, says he offers a treatment called CO2 laser skin resurfacing that helps get rid of brown spots, and when combined with either of the two facelifts, can be very effective for complete facial rejuvenation. Dr. Zollman says the laser treatment can be very beneficial to patients wishing to smooth their facial skin, as well as concentrate on areas around their eyes. He also adds that using this technique enables him to pursue his goal of enhancing each individual's overall procedure and outcome. Dr. Zollman has performed 29,000 surgical procedures.
At his center for plastic surgery in Indianapolis, Dr. Zollman and his staff offer years of experience while providing a comprehensive span of treatments and procedures ranging from body lift and rhinoplasty, to implants and laser treatments. Dr. Zollman says his practice aims to utilize the safest, most advanced technology available to plastic surgeons. He says he believes it is his duty to consistently stay educated on modern techniques in order to better himself and his practice, adding that he feels offering state-of-the-art procedures, such as the CO2 laser, help him to provide patients with the level of care they deserve.
CO2 laser skin resurfacing can be performed to enhance the face by removing a number of perceived facial blemishes including chicken pox and acne scars, sun spots, age lines, and wrinkles. Normally, the procedure is performed as an outpatient operation under general anesthesia and can encompass the entire face from the forehead down to the jowl line. The laser can tighten the skin to smooth out small wrinkles, and can be especially effective on eyelids and areas in close proximity to the eyes. Dr. Zollman says results from the CO2 laser can be much more dramatic than those from other office based laser treatments. Following the treatment, he says patients should expect about two weeks of recovery time; however, he adds that every individual heals differently.
Dr. Zollman says patients looking to optimize their enhancement results may want to consider combining laser skin rejuvenation with other facial procedures. Alone, neither a traditional facelift nor MACS Facelift can remove brown spots from the face, or have much effect around the eyes and mouth, which is why Dr. Zollman recommends a combination of laser and facelift procedures. He says adding laser treatment to the benefits of a facelift can result in the greatest amount of revitalization. Dr. Zollman adds that no matter what the procedure, patients should be certain the doctor is board-certified to ensure the use of the safest, most effective treatments and care.
About Dr. Wally Zollman
Dr. Wally Zollman graduated from the Indiana University School of Medicine in 1970, and then completed his residency at the University of Mississippi School of Medicine. A cosmetic surgery specialist, Dr. Zollman is widely known for his work and innovative techniques in liposuction, buttock enlargement with fat reinjection, and breast implant procedures. He is a fellow of the American College of Surgeons, and belongs to many societies and associations including the American Society of Plastic Surgeons, the Indiana State Medical Association, and the Indianapolis Medical Society among others. Dr. Zollman is board-certified by the American Board of Plastic Surgeons.
Zollman Plastic Surgery is located at 8227 Northwest Blvd. Suite #290, Indianapolis, Indiana 46278, and can be reached by phone at 866-277-3613. He can also be contacted online via zollmansurgery.com and the Zollman Plastic Surgery Facebook page.