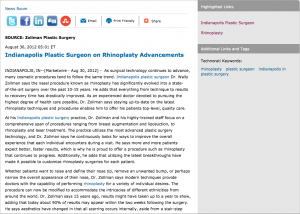 Indianapolis, IN – As surgical technology continues to advance, many cosmetic procedures tend to follow the same trend. Indianapolis plastic surgeon Dr. Wally Zollman says the nasal procedure known as rhinoplasty has significantly evolved into a state-of-the-art surgery over the past 10-15 years. He adds that everything from technique to results to recovery time has drastically improved. As an experienced doctor devoted to pursuing the highest degree of health care possible, Dr. Zollman says staying up-to-date on the latest rhinoplasty techniques and procedures enables him to offer his patients top-level, quality care.
At his Indianapolis plastic surgery practice, Dr. Zollman and his highly-trained staff focus on a comprehensive span of procedures ranging from breast augmentation and liposuction, to rhinoplasty and laser treatment. The practice utilizes the most advanced plastic surgery technology, and Dr. Zollman says he continuously looks for ways to improve the overall experience that each individual encounters during a visit. He says more and more patients expect better, faster results, which is why he is proud to offer a procedure such as rhinoplasty that continues to progress. Additionally, he adds that utilizing the latest breakthroughs have made it possible to customize rhinoplasty surgeries for each patient.
Whether patients want to raise and define their nose tip, remove an unwanted bump, or perhaps narrow the overall appearance of their nose, Dr. Zollman says modern techniques provide doctors with the capability of performing rhinoplasty for a variety of individual desires. The procedure can now be modified to accommodate the intricacies of different ethnicities from around the world. Dr. Zollman says 15 years ago, results might have taken up to a year to show, adding that today about 90% of results may appear within the two weeks following the surgery. He says aesthetics have changed in that all scarring occurs internally, aside from a stair-step scar located between the nostrils. He adds that cartilage grafting and sutures are used to support and shape the nose, which ultimately results in a more natural look.
Dr. Zollman says just like patients' ethnic backgrounds and desired looks differ, techniques used will vary with every procedure. He adds that no two individuals will be treated the same. On finding the right surgeon, Dr. Zollman says whether patients are looking for rhinoplasty in Indianapolis or any other procedure, they should always consult with a board-certified doctor to ensure the safest, most effective techniques are used for every treatment. He also says he hopes people will use his practice as a place to learn more about the advancements rhinoplasty has made, and take advantage of the benefits that the modernized surgery now offers if they wish to proceed.
About Dr. Wally Zollman
After earning his medical degree from the Indiana University School of Medicine, Dr. Wally Zollman completed his residency at the University of Mississippi School of Medicine. Board certified by the American Board of Plastic Surgery, he is experienced in congenital and reconstructive surgery, as well as trauma. Dr. Zollman specializes in cosmetic surgery and is a member of many organizations including the American Society of Plastic Surgeons and the Indiana Medical Society among others. As a proponent of continued education, he attends and speaks at multiple medical gatherings both nationally and internationally.
Dr. Zollman's practice is located at 8227 Northwest Blvd. Suite #290, Indianapolis, Indiana 46278, and can be reached via phone at 866-277-3613. He can also be contacted online at zollmansurgery.com and facebook.com/pages/Zollman-Plastic-Surgery-Wally-Zollman-MD/10150157075160331.