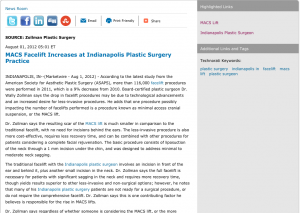 Indianapolis, IN – According to the latest study from the American Society for Aesthetic Plastic Surgery (ASAPS), more than 116,000 facelift procedures were performed in 2011, which is a 9% decrease from 2010. Board-certified plastic surgeon Dr. Wally Zollman says the drop in facelift procedures may be due to technological advancements and an increased desire for less-invasive procedures. He adds that one procedure possibly impacting the number of facelifts performed is a procedure known as minimal access cranial suspension, or the MACS lift.
Dr. Zollman says the resulting scar of the MACS lift is much smaller in comparison to the traditional facelift, with no need for incisions behind the ears. The less-invasive procedure is also more cost-effective, requires less recovery time, and can be combined with other procedures for patients considering a complete facial rejuvenation. The basic procedure consists of liposuction of the neck through a 1 mm incision under the chin, and was designed to address minimal to moderate neck sagging.
The traditional facelift with the Indianapolis plastic surgeon involves an incision in front of the ear and behind it, plus another small incision in the neck. Dr. Zollman says the full facelift is necessary for patients with significant sagging in the neck and requires more recovery time, though yields results superior to other less-invasive and non-surgical options; however, he notes that many of his Indianapolis plastic surgery patients are not ready for a surgical procedure, or do not require the comprehensive facelift. Dr. Zollman says this is one contributing factor he believes is responsible for the rise in MACS lifts.
Dr. Zollman says regardless of whether someone is considering the MACS lift, or the more traditional facelift, he stresses the importance of consulting with a board-certified plastic surgeon. He says the training and experience gained during the certification process ensures patients will receive the safest and most effective care possible, with the greatest potential for aesthetic outcomes that meet patient expectations.
About Wally Zollman, MD
After earning his medical degree from the Indiana University School of Medicine, Dr. Wally Zollman completed his plastic surgery residency at the University of Mississippi School of Medicine. He is certified by the American Board of Plastic Surgery, and a member of the American Society of Plastic Surgeons, the Indianapolis Medical Society, and the American Medical Association.
Zollman Plastic Surgery is located at 8227 Northwest Blvd. Ste. 290, Indianapolis, IN 46278, and can be reached at (866) 277-3613. Dr. Zollman and his team can also be found online at zollmanplasticsurgery.com or their Indianapolis Plastic Surgery Facebook page.